This is the second of three Trappistes Rochefort beers in The Book. We saw the Rochefort 6 recently, and this is a similar brew with similar ingredients, but one which ratchets up the strength a little to a very respectable 9.2% ABV.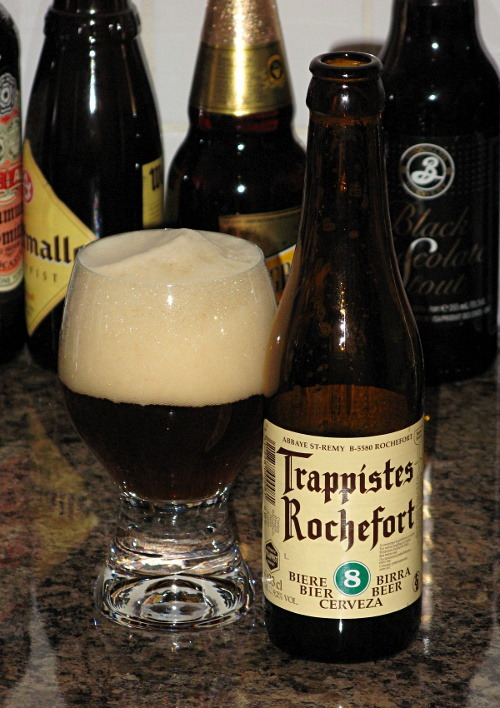 Once again, there's a gigantic foamy head, perhaps even larger than that of the 6. The 8 pours slightly darker, and is more of a burnished bronze colour.
Perhaps unsurprisingly, there isn't a great deal of difference between the 6 and the 8. There's that same toasty caramel and christmas pudding fruit, along with a vinous barleywine-like finish.
That said, I notice I did use the word "refreshing" about the 6, whereas with that 9.2% strength, I'm not sure I would describe this one as such. It's more of a warming drink, and one to take a little more slowly. It's a fairly thick beer, and gently swilling it, the way the foam holds to the glass is a thing of beauty in itself.
Rochefort 8 is certainly a good, savourable beer. I rather like it, though I slightly resent it for not giving me anything particularly interesting to say in comparison to the previous Rochefort offering. That's clearly unfair, because I suspect if I tried this one in isolation, I'd be very impressed indeed.
We've one more Trappistes Rochefort beer left to try. At a mighty 11.3% ABV, the Rochefort 10 is the strongest beer I've ever seen in my life. I've sourced a bottle today, and I'm very much looking forward to it.
Facts and Figures