I very much enjoy my all-too-infrequent visits to the splendid Lowlander on Drury Lane. To while away an afternoon being waited on by their charming and tirelessly efficient young staff, who unhesitatingly fetch you round after round of hopelessly strong beers at the slightest invocation, is one of London's great pleasures.
You'll remember that we previously enjoyed that rather special Rodenbach Grand Cru there a little while ago, but we haven't exhausted the intersection between Lowlander's extensive beer menu and the 300 Beers Todo List by any means. Let's beckon our serveuse over and order a bottle of La Trappe Tripel.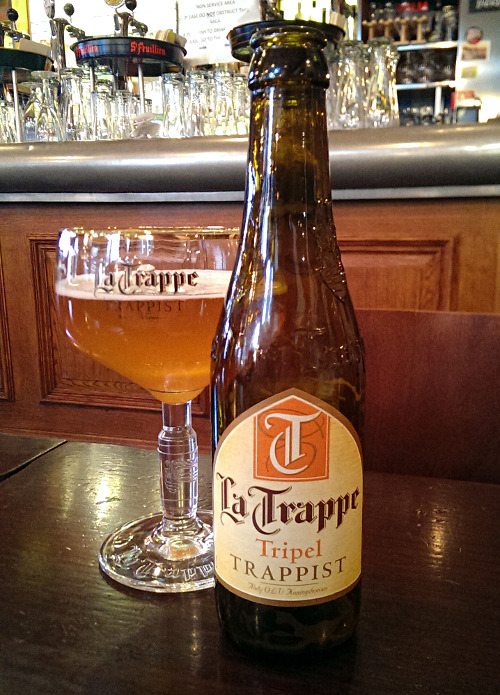 As I mentioned when I covered La Trappe Dubbel a little while ago, the Trappist Abbey of Our Lady of Koningshoeven brewery is the only Trappist brewery in the Netherlands, and as such brews what may be regarded as quite typically Belgian beer styles.
The Tripel is no exception. Blonder, hoppier and a little stronger than the Dubbel at 8.0%, the La Trappe Tripel is absolutely typical of its style, the archetype for which is of course the Westmalle Tripel.
This is a remarkably similar beer. One whiff and I'm back in Brussels, as the Belgian yeast, subtle hops and that distinctive dried banana aroma flow freely forth. To taste, it's fresh, zesty and astonishingly light for an eight percenter.
As it warms, peppery, spicy notes come through, and while I wouldn't have identified it myself, it's not entirely surprisingly to learn that the monks brew this one with a touch of coriander. It contributes a spicy heat and adds complexity, though the beer isn't lacking in that already.
I'm becoming quite fond of this brewery, though I'd tend to lean towards their 10% ABV Quadrupel, a couple of which are quietly ageing in the Official 300 Beers Cellar (a cardboard box in the spare room). That one isn't in The Book, but there is one more La Trappe beer to track down. Stay tuned.
Facts and Figures