With the two previous Belgian beers I've tackled, I've wondered aloud what the exact use case for these super-strength blonde bombshells is.
I have no such qualms about this one. Chimay Bleue is pure luxury in a glass. This is a beer just made to be savoured slowly, late at night, in your favourite armchair by the fire.
This is the first of three Chimays that are in The Book. All of them are brewed by Trappist monks at the Notre-Dame de Scourmont Abbey in Hainaut, Belgium.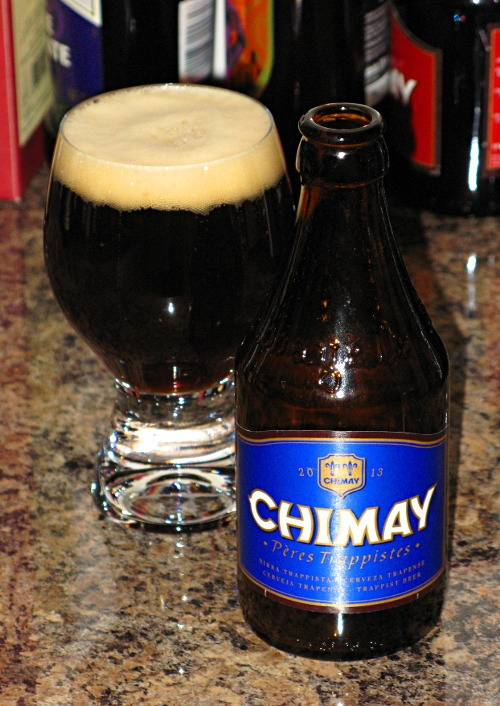 Chimay Bleue pours almost black, though if you hold it up to the light, you can see it's actually a lovely dark ruby colour. There's a small and very velvety beige head, and it tastes like the beer you always wanted to drink.
You absolutely must serve Chimay beers at room temperature, as it's only then that the sheer quality and depth truly become apparent.
Bleue is rich, dark and chocolatey without being sweet. It has the smoky depth of a good stout, such as last night's Guinness Foreign Extra, but without any of the bitterness and grit. It's boozy, decadent, and hopelessly moreish. Still, at a Special Brew matching 9% ABV it might be wise to stick at one, and take your time over it.
Enjoyed that way, Chimay Bleue is just a wonderful beer, and the perfect nightcap.
Facts and Figures
| | |
| --- | --- |
| Brewery: | Bières de Chimay S.A., Baileux, Belgium |
| Style: | Trappist Beers |
| ABV: | 9.0% |
| Found at: | Waitrose, Whitecross Street, London EC1 |
| Dispense: | 330ml Bottle |