There are many things you could name a brewery after, but the chaps at Stoke-on-Trent's Titanic Brewery seem to have made a particularly bewildering choice.
Not that the name appears to have held them back. Titanic Stout can be found as the resident stout on the bar in quite a number of pubs, at least in my part of the world, making impressive inroads into the territory more often associated with the ubiquitous Guinness.
One such pub is the well-regarded The Gun. Hidden away down narrow streets on the Isle of Dogs, and sat directly on the banks of the Thames, The Gun has been very much gastrofied in recent years, yet remains a perfectly pleasant location to try a pint of beer number 133.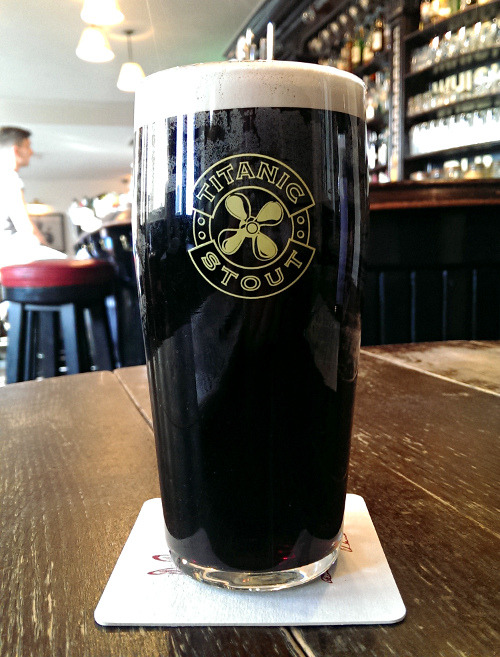 It's a handsome pint too, and the branded glassware is a nice touch. Titanic Stout is a deep ruby red colour, rather than the jet black which is often associated with stouts. There's a lovely smooth tan head, no doubt helped in part from being served from keg.
Once we've finished admiring it and trying to get a decent photo while the low spring afternoon sun does everything it can to sabotage our efforts, it's time to crack on and give it a try.
Well, it tastes like a stout. It's nice enough, and pleasingly full-bodied and smooth, but it doesn't give you much to say about it beyond that. There isn't a great deal of bitterness or any real punch to it, making Titanic Stout thoroughly accessible but perhaps also a little inoffensive.
That could well be by design, as a necessary factor of getting the beer onto the bar in so many pubs. It's not a bad pint by any stretch of the imagination, and I'd happily drink it again. I probably will in fact, in case I'm missing something, but for the time being it left me wanting somewhat more from a stout.
Facts and Figures