The glamorous, jetsetting life of Threehundredbeers continues as we board a leaking, 30-year-old Pacer at Sheffield station with the feintly terrifying plan of spending a rainy Saturday afternoon at the Concertina Band Club, a rather earthy working men's club in a former mining village somewhere in rural South Yorkshire.
The reason we're here is Concertina Bengal Tiger. This is a highly-regarded, award winning IPA that very few have tried. It's brewed in the tiny cellar here at The 'Tina, and it's pretty much impossible to find anywhere else. Even if you could find it elsewhere, it would be an injustice to the Threehundredbeers project and to both of my readers not to make my way to Mexborough and the beer's source.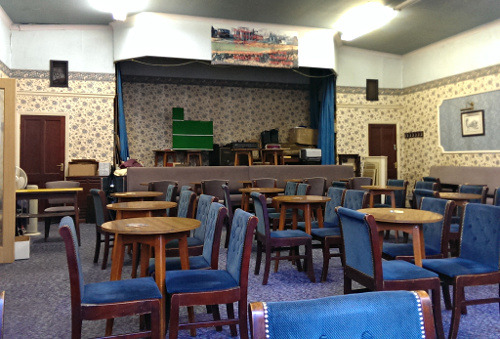 The club itself has seen better days, and initially feels a little intimidating to a southern softie. Yorkshire folks don't do the red carpet treatment, but the welcome is warm enough. The club is no longer home to an actual concertina band, that once widespread northern phenomenon sadly having gone the same way as sparking clogs and Sheffield United winning the FA Cup, but judging by the trophies, it does still boast a fearsome ladies' darts side.
Moreover, the beer is of exceptional quality, unreasonably cheap, and served in generous measures. I could get used to this.
Would you look at that. The head, the colour, even the temperature is mouth-watering. That's a beer in impeccable condition, and we've been served somewhat more than a pint for an unnecessarily reasonable £2.15.
And it's lovely stuff too. Concertina Bengal Tiger is a beautiful golden colour with quite the finest white head I've seen on a beer in years.
I'm expecting a fairly traditional English-style IPA, with big fat malts and modest hop bitterness, but instead I'm hit full in the face by a giant handful of full-on citrus hops, much more in the modern, American style of IPA. I remember having much the same experience with another Yorkshire brew, the Kelham Island Pale Rider, so I wonder if that's entirely a coincidence.
As an IPA, this one is significantly and pleasingly more bitter, but as expected that bitterness is happily underpinned by big, juicy, mouth-watering malts. There's booze on the nose, and there's a giant hamper of tropical fruit in there too, which surprisingly enough reminds me of a personal favourite, the classic Beavertown Gamma Ray.
There's the tiniest, slightly acetic sour tang at the end, which initially seems out of place, but eventually is moreish enough to send you back to the bar for a second pint. It helps that the Bengal Tiger is served nice and cold here too. This is not your typical warm, flat brown beer.
Instead, Concertina Bengal Tiger is everything an IPA should be, and well worth the trek to Mexborough.
The Concertina Band Club is found at 9a Dolcliffe Road, Mexborough. Daytime opening hours were 1-5pm on the Saturday that I visited, but it may be wise to ring ahead on 01709 580 841. The club is a brief, uphill stroll from Mexborough station, itself an easy train ride from Sheffield, Rotherham or Doncaster. Whilst the establishment is technically a club, my own non-membership was not an issue, although I'm told CAMRA members are particularly welcome.
Facts and Figures
| | |
| --- | --- |
| Brewery: | Concertina, Mexborough, South Yorkshire, England |
| Style: | India Pale Ales |
| Strength: | 4.6% ABV |
| Found at: | The Concertina Band Club, Dolcliffe Road, Mexborough |
| Serving: | Cask, pint |