It's getting rarer to find these beers by accident now we're beyond the halfway mark. But here we are back at the Alleyn's Head—right near my house—for a spot of dinner, and look what's on the pumps at a mere £2.59 a pint.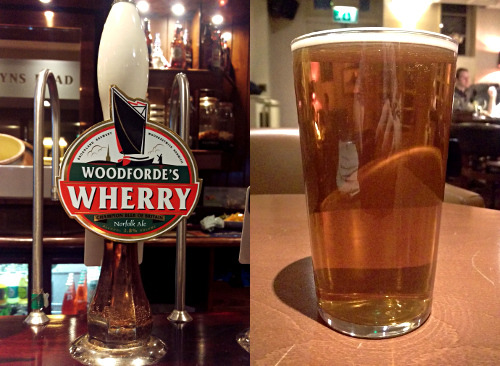 Woodforde's Wherry hails from Woodbastwick, way out in Norfolk. On the face of it, it's a pretty standard English Bitter of the type that rarely gets me excited. But this pint is in impeccable condition, as is so often the case with the cask ales here at the Alleyn's Head.
It's a little paler in colour than most bitters, pouring a rich copper colour with a modest off-white head. It's as smooth as can be, too, with none of the harsh aftertaste that can plague a lot of beers of this style.
Instead, there's a full-yet-balanced, malty body with a fruity, almost tangy, caramel sweetness and a little peppery bitterness from the English hops.
Wherry successfully packs in a great deal of flavour for its eminently sessionable 3.8% strength. I'm still not sure I'll be going out of my way for a pint of bitter, even this one, but served in this good a condition it's a great little beer.
Facts and Figures