After the rather wonderful pint of Kelham Island Pale Rider I recently enjoyed in Sheffield, this is the second beer in a row to hail from Yorkshire.
This time, however, we're a little closer to home. A mild December Saturday saw me drift back to the Anchor Tap in SE1, the same pub where I sampled the Taddy Porter, to discover yet more of their tiny wood-panelled rooms. This one had a piano, and it had a burly man happy to dispense a bottle of this rather nice Oatmeal Stout.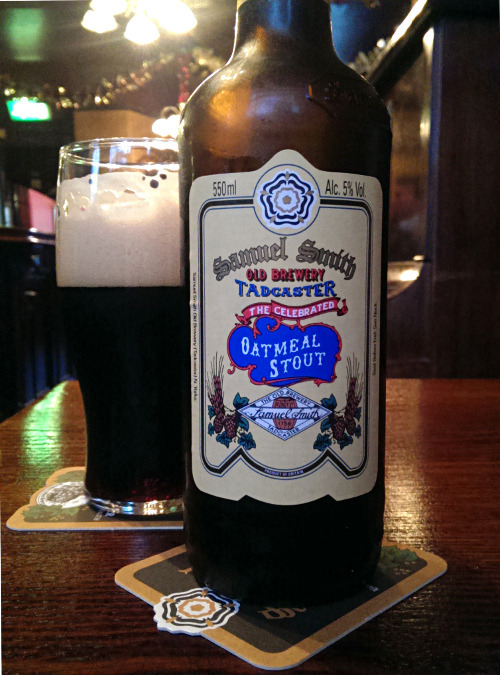 The use of oats in the brewing process dates back centuries, and while it is apparently a bit of a sod to brew with, turning the wort a gelatinous, porridgy sort of texture and clogging all the equipment, it imparts a lovely, silky smooth texture, which complements a good stout beautifully.
And this is a terrifically good stout, pouring a deep reddish colour that's almost black unless you hold it up to the light, and with a huge, dense tan head.
At first taste Sam Smith's Oatmeal Stout is sweet, tangy and remarkably smooth, thanks to that oatmeal in the mash. Straight from the fridge it's a little too cold, but as it warms hints of licorice and aniseed appear, and the finish becomes dry and moreishly bitter.
This is another top notch beer from old Sam Smith. It's very easy-drinking for a stout, and it's even certified vegan, if that floats your boat. If push came to shove, I'd probably plump for the Taddy Porter over this if I wasn't blogging, but the Oatmeal Stout beats something like a Guinness hands down.
Facts and Figures