After furnishing us with the Batemans XXXB and the Hambleton Nightmare, The Crosse Keys in the City of London is becoming a valuable ally on our quest.
Conveniently enough, a recent weekend saw something of a tap takeover by Essex's Nethergate Brewery, makers of that rather fine Old Growler I enjoyed a while ago, and of this: Nethergate Umbel Magna.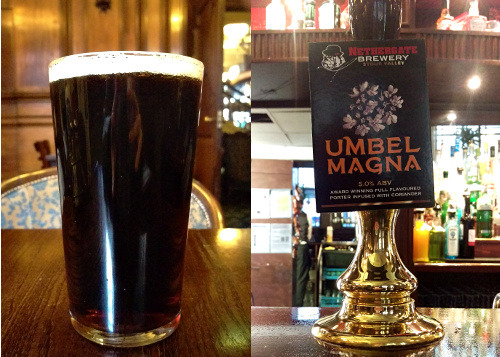 Umbel Magna is a recreation of a 1750s Porter recipe brewed with an addition of coriander to spice things up a little. It has won awards left right and centre, and I'm going to have a pint, even if it isn't quite midday yet on a Tuesday morning.
It's lovely stuff too, malty and chocolatey and hugely aromatic. It's sweet and rounded at first, but with a hefty great dose of bitterness in the finish to balance things out and keep the beer hopelessly moreish. There are toasty notes alongside the chocolate sweetness too.
True to the Porter style, the body is a little lighter than a stout, while the colour is more of a deep, warm mahogany than a black. There's a bit of booze in the nose, though perhaps that's the early hour making me a little more sensitive than usual.
I didn't actually know at the time that coriander was involved, and I certainly didn't spot it, which suggests it's contributing to the overall flavour of the beer rather than dominating proceedings, which suits me.
Either way, Umbel Magna is a cracking winter beer and one I'd happily drink again, especially at the Crosse Keys' improbably reasonable prices. Good stuff from Nethergate once again.
Facts and Figures