Life isn't all glamorous Belgian cafés, bars and breweries here at Threehundredbeers, you know. We're not above a trip to a good old JD Wetherspoon pub from time to time, and there's nothing wrong with that.
The Crosse Keys in the City of London's Gracechurch Street, better known for its banking and insurance companies, is a blooming good Wetherspoon's, in fairness. A bit of an old favourite of mine, this is a huge and rather grand drinking barn in the banking hall of the former Hong Kong and Shanghai Bank building. It's all marble panelling and pillars, ornate clocks, and a ceiling so high you'd need a telescope to see it.
And beer, of course. Plenty of beer. I haven't counted the handpumps but there are basically loads, dispensing a multitude of cask-based liquids, generally in very fine condition indeed. Today that includes Nick Stafford's Hambleton Nightmare.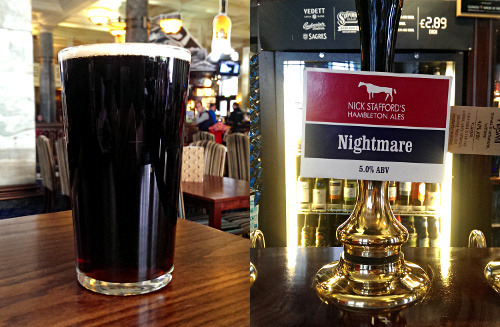 Hambleton Nightmare is listed in the Porters and Stouts section of The Book, and I'd say it looks more the former, pouring a very appealing dark ruby colour with a minimal tan head. I wonder if up in its native North Yorkshire this one would typically be sparkled, but that apparently isn't how we do things down south.
Nightmare is relatively light bodied and easy drinking for such a dark beer, so again I'm leaning towards this being a Porter. It's pretty uncompromising in terms of flavour, though. This is a hugely tangy, fruity beer, perhaps reminiscent of those malty Scottish ales, albeit with a great deal more hop bitterness.
There's a big, rich bonfire toffee darkness too, which reminds me of the previous beer covered here, the Gouden Carolus Classic, though again the extra hops make it quite a different beer.
This was a great, thoroughly drinkable pint. All credit to 'Spoon's, it's in great nick here, and at an eminently reasonable £3.25 you're unlikely to find a better deal in the City. Good stuff.
Facts and Figures