Since we're quite so comfortable sat at the bar here at La Capsule, let's pick something more from the impressive tap list to follow the local speciality L'Angelus Bière de Garde.
I'm a big fan of Cantillon as is no doubt fairly clear by now. I toured the brewery in Brussels last year, and enjoyed the Kriek, then returned last month for the perhaps even better Rosé de Gambrinus. The Gueuze-Lambic is the core of the range, being the straight Geuze upon which the fruit-infused beers are based.
To my very great surprise, it's served here at La Capsule in cask-conditioned form. I really had not expected to see handpumps in France, let alone one with Cantillon in it, so let's not miss out.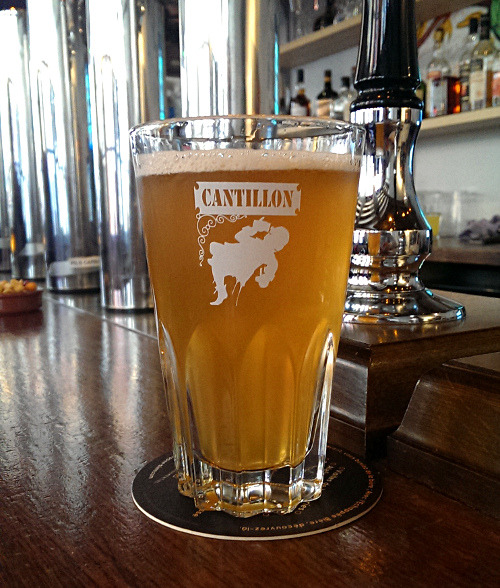 The smell is amazing, eye-watering even. To be frank, cask Cantillon Gueuze-Lambic stinks to high heaven, but in a good way. The sourness is fully apparent but there's a great yeasty funk to the aroma too, with mushroomy, musty, horse-inflected Brettonomyces-like yeast notes reminiscent of an aged Orval.
It smells nicer than it sounds, and obviously the flavour is stunning. Brow-moisteningly sour, it's crammed with tangy, face-contorting citrus. Quality Geuzes such as the Cantillon always have so much depth and complexity behind that sourness though, from the expert blending of years-old barrel-aged Lambics.
That's very much the case here, and the cask conditioning really works. Compared to the bottled or only slightly less rare keg beer, the edges are rounder and softer bringing a beautiful balance to proceedings. The finish is so long and dry I'll still be tasting it back in London. This is a stunning beer in immaculate form.
I'm having a good day, all in all. With a few more moments to kill before running for the Eurostar, I followed the Cantillon with something called Capsoul. This is the La Capsule house beer, brewed by the renowned Belgian brewery De Struise. It was dark and rich and far easier to drink than its 10% strength might lead you to expect. So I had two.
It was starting to turn into a Saturday night at La Capsule by this point, and the somewhat compact bar was quite bustling, though the atmosphere remained as relaxed and convivial as I'm sure it always is. I was sad to leave, and I'll make a point of returning before long.
Facts and Figures