The Draft House, SE22 is a heady, intoxicating place to while away an afternoon. Dangerously so, in fact, and I bloomin' love it.
Following the delicious, staff-recommended 7.0% ABV Texels Bock with the 8.2% Schneider Aventinus might be considered brave at best, but only a fool would go on to round out the session with this 10.0% ABV hooligan of an Imperial Stout.
Foolish or not, we have no choice: it's in The Book. There is science to be done.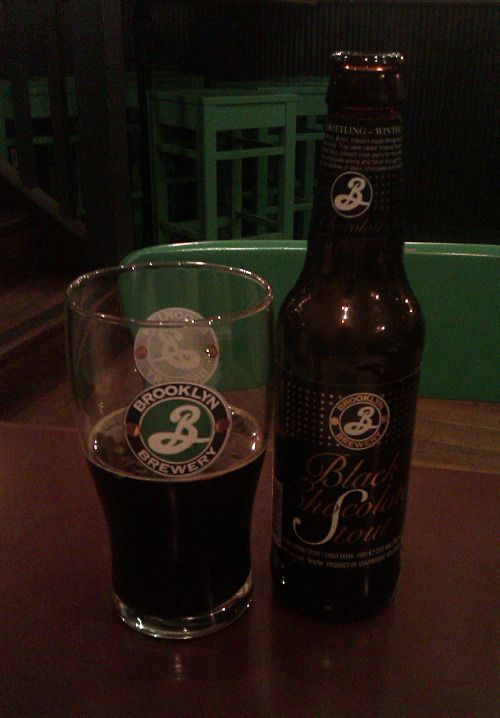 Brooklyn Brewery's Black Chocolate stout is black. It's blacker than ink. I mean, just look. It's so black it's actually sucking light out of the room around it.
Brooklyn's Chocolate Stout—from the same chaps that brought us that rather nice Vienna Red lager—is brewed just once per year and the bottles are dated, a little like a vintage wine. According to my scribbled notes, this example is from the Winter 2011-12 bottling, so I assume it has been sat in a cellar somewhere, quietly maturing for a little while.
And oh my, it's good.
Unlike Wells & Young's comparatively puny Double Chocolate Stout, this one needs no artificial help to throw out hedonistic, decadent bitter chocolate notes. It's all a function of the six combined varieties of black, chocolate and roasted malts that they use.
Beyond the chocolate, there's a lovely, toasty sort of tar and soot thing going on, and a long bitter finish. And by long I mean that I drank this last week, and can still taste it. Every mouthful is an absolute treat.
It's all topped off with that head-swimmingly intoxicating, warming double-figures alcohol hit, and suddenly all is well in the world.
Some might suggest that 10.0% ABV is a bit racy, but I believe that once a beer gets this strong and attains this level of quality, you have to stop thinking of it as a strong beer, and that comparisons with a fine wine or a liqueur are more appropriate. This is absolutely to be drunk slowly, and just savoured and enjoyed.
I didn't expect the Chimay Bleue to be beaten for luxurious self-indulgence quite so soon, but those guys over at Brooklyn have done it.
There's one more Brooklyn beer to track down, and considering the beers they've given us so far, I'm not sure I can wait.
Facts and Figures