Oh BrewDog. You mischievous bunch of pseudo-anarchist yet ruthlessly commercially driven scamps. Stop winning me over by actually being really nice guys who genuinely know and care a great deal about good beer.
And stop tempting me back to spend all of my wages at your fancy new Clapham Junction bar with its magnificently cornucopial supply of rare and delicious beers, such as Boon Mariage Parfait Kriek.
Actually don't stop: this would have been a difficult one to get hold of otherwise.
This is a very special sour Gueuze from Lembeek in Belgium, brewed with no less than 400g of overripe, sour cherries per litre of beer, and then aged in oak vats for many months before being expertly blended and then refermented in bottle for a minimum of two years.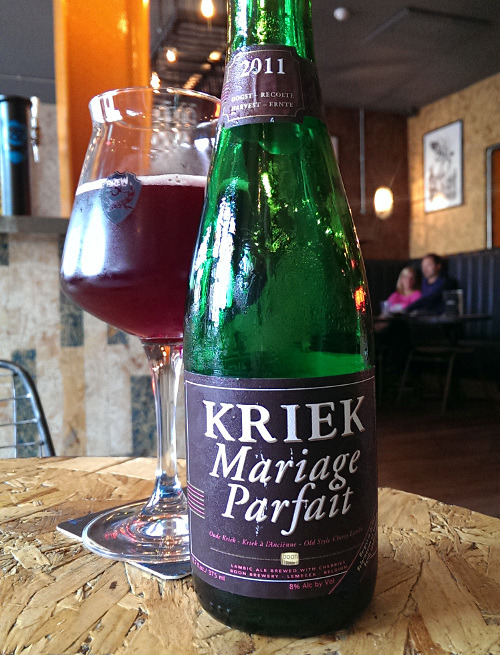 Here we have a bottle of the 2011 vintage of Boon Mariage Parfait Kriek. It's presented in a smart 375ml bottle with a sexy little champagne cork arrangement on top. Full credit must go to the barman for trusting the customer to open and pour this one themself.
It pours a rich, wine-dark red colour with a big frothy pink head which fades almost immediately. The aroma is light and delicate, with modest, fragrant hints of fruit and sourness.
That lightness and delicacy carries over to the flavour. Despite the respectable 8% ABV payload and the huge amounts of fruit, wood and time that have gone into this it's such a subtle beer. You can taste the cherries for sure, but to call this a fruit beer would be to miss the point entirely.
There's almost entirely no sweetness there at all, just a huge long dry finish that has you reaching for the next sip immediately. For all that dryness, it's surprisingly refreshing, and as with the Cantillon Kriek, it's sour, complex and just truly special.
It may well sound pretentious, but this is a real connoisseur's beer, and in no way could my clumsy tasting notes and affectionate digs at BrewDog do it justice.
Apparently the Mariage Parfait should age beautifully over quite literally a matter of decades, and so now I've enjoyed this one, that bottle of the 2012 I found at BottleDog a couple of months ago can be put aside for a special occasion many years into the future.
Facts and Figures