It looks like it might be worth making speculative research trips to the Crosse Keys, a JD Wetherspoon pub in the heart of London's financial centre, more often. The previous visit unearthed Hambleton Nightmare, and this time we have the opportunity to accompany our reasonably priced lunch with a pint of Batemans XXXB, a Best Bitter from Lincolnshire.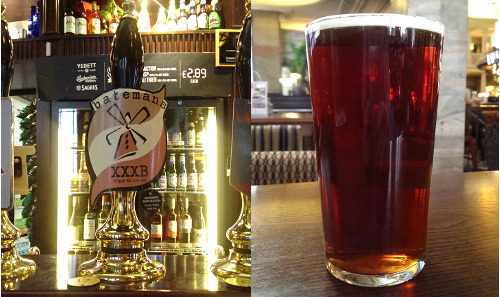 I'm always a little trepidatious when it comes to English Bitters, as it's not a style that's always managed to get me excited. That said, this one looks and smells fantastic. It's a lovely deep ruby colour with a big fruity English hop aroma.
There's a rich malty body as befits a "Best" Bitter rather than an "Ordinary". It's full of smoky bonfire toffee and caramel, all finished with a moreish, distinctly tangy bitterness, rather than the harsher aftertaste found in some lesser Bitters. Blindfolded, I'd probably identify XXXB as an ESB-style beer, thanks to all that lovely depth.
It goes down quickly though, and all in all this was a thoroughly enjoyable pint. This is a beer that I'll be happy to drink again whenever I see it. At the Crosse Keys' thoroughly reasonable £3.25 it's positively a steal.
How nice that the Crosse Keys now opens on a Sunday, too. The City has traditionally been a ghost town at the weekends, with pubs remaining resolutely closed. Times are changing, thankfully. Saturdays have been a great deal more lively in recent years, but to be able to get a decent pint of beer on a Sunday is very new indeed. All credit to JD Wetherspoon for making that happen.
Facts and Figures